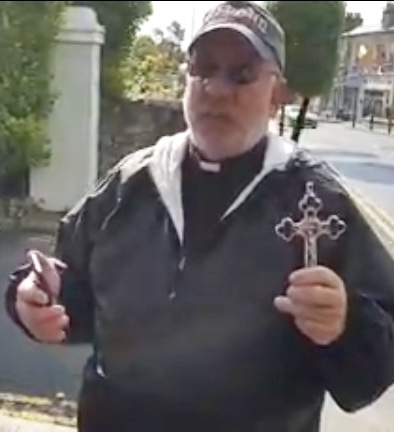 Fr Stephen is launching a new ministry, On The Road For Life, in which he will incorporate different aspects of his traveling ministry, his retirement, and his pro-life activism. Fr Stephen will travel around the country with a camper trailer visiting abortion facilities, pregnancy resource centers, truck stops and rest areas ministering to pro-life activists and anyone that Jesus entrusts to Fr Stephen on any given day. Fr Stephen is also praying and discerning taking trips to Ireland to help ministry to the Irish pro-life movement.

Donate to On The Road For Life
Invite Fr Stephen
Here is a glimpse of what "On The Road For Life" may look like…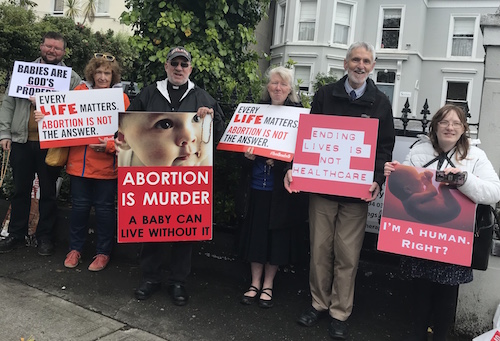 1. Ministry to pro-life activists at abortion facilities throughout the country using appropriate prayer such as candlelight vigils, rosary vigils, sidewalk counseling, blessings etc.
2. Bring attention to the important work of pregnancy resource centers throughout the country.
3. Help organize and energize pro-lifers in their local areas.
4. Celebrate Mass and perform priestly ministry including confession wherever and whenever appropriate.
5. To be the face of Jesus and see the face of Jesus along the way by distributing prayer cards, rosaries, food, and water and other assistance to those in need!

On The Road For Life ministry will be under patronage of Our Lady of Guadalupe and St Mother Teresa of Calcutta.
Fr Stephen will be planning 3-4 extended trips On The Road For Life each year with the inaugural journey being to Florida and other southern states in August and September.
---
2nd ON THE ROAD FOR LIFE TRIP!!!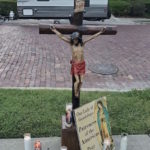 Father Stephen Imbarrato; On The Road For Life Itinerary
(Details on events and stops; email frstephen@defendinglife.org)
September 16th, Fr Stephen embarked on his 2nd ON THE ROAD FOR LIFE trip. This ministry journey will be 6 weeks long ( till November 1st) and will cover 20 states with 24 stops and cover about 6000 miles! For details on each stop or if you wish to join the Camper Chapel Gasoline Brigade, contact Fr Stephen or Free Will offerings accepted at http://protestchildkilling.com/contact-us-donations/
September:

Monday 16th Las Cruces, NM; El Paso, Texas. Theard
Tuesday 17th Las Cruces, NM El Paso, Texas Mass in Santa Terita
Wednesday 18th San Antonio Private Mass and talk (evening)
Thursday 19th San Antonio Planned Parenthood; Baton Rouge…friends (evening)
Friday 20th Baton Rouge and Mandeville, La…friends
Saturday 21st Orlando (morning) and Ft Lauderdale (evening)
Sunday 22nd – Friday 27th vacation Ft Lauderdale, Florida; various meetings
Saturday 28th Columbia SC…family ON THE ROAD TO THE NATIONAL ROSARY RALLY BEGINS
Sunday, 29th Greenville, SC
Monday 30th Prayer Vigil, Greenville abortion mill; PM: Myrtle Beach, SC Private Mass and talk


October:

Tuesday 1st Wilmington NC Planned Parenthood; Charlotte NC; private Mass and talk
Wednesday 2nd Prayer Vigil Charlotte NC; PM: visit family
Thursday 3rd – Sunday 6th Virginia Beach; itinerary TBA
Monday 7th Northern Virginia
Tuesday 8th till Saturday 12th Washington DC; meetings, Value Voters, Planned Planned Parenthood
Sunday 13th National Rosary Rally; see RosaryCoasttoCoast.com
Monday 14th Private Mass, Silver Springs Maryland
Tuesday 15th Delaware prayer vigil abortion mill
Wednesday 16th Philly
Thursday 17th – Friday 18th NJ…family
Saturday 19th – Sunday 20th Pittsburgh area; friends; activism
Monday 21st Franciscan U talk
Tuesday 22nd Dayton RTL Fundraiser
Wed 23rd Prayer Vigil Haskell's abortuary
Thursday 23rd Detroit area; possible abortion mill prayer vigil
Friday 24th Chicago area; talk to seminarians
Saturday 25th – Monday 28th Minneapolis/St Paul
Tuesday 29th Fargo, ND Private Mass; talk
Wednesday 30th Prayer Vigil Fargo, ND
Thursday 31st Omaha, Neb
Friday 1st Back home ABQ
ON THE ROAD FOR LIFE…1st TRIP
Read the Florida Catholic news article – 'Protest Priest': Launches pro-life project in Florida.
View of Father's altar setup in his camper. The people can attend mass outside and see Father celebrating Mass.

Father's first ministry assignment ON THE ROAD FOR LIFE was spiritual director for a RACHEL VINEYARD RETREAT in MIAMI. Pictured is the RV Ministry team
that served 10 post abortive retreatants!
ON THE ROAD FOR LIFE in under the patronage of St Mother Teresa.

Father celebrated Mass for the Miami Missionaries of Charity to kickoff a week in Florida with almost 2 dozen events.
Father Stephen performed 10 minor exorcisms (exorcisms of location) at abortion facilities during his trip. Here is his Crucifix with a 1st class relic of St PATRICK.

ON THE ROAD FOR LIFE is under the patronage of St Mother Teresa of Calcutta.
Miami, Florida 8/19/19.

Miami, Florida evening 8/19/19.
Abortion Vigil. Tamarack Florida, 8/21/19.

Staff at Margate Florida PRC, one of 5 PRCs sponsored by Archdiocese of Miami.

Hollywood Florida PRC Volunteers! 8/20/19.
Prayer vigil Wellington, Florida Planned Parenthood 8/22/19.

The Red Rose Rescue Effect! Police began showing up everywhere Fr Stephen. appeared and the Orlando police called him to ask his intentions. His intentions? "To pray for the end of preborn mass murder."

Orlando Planned Parenthood 9/24/19.
After Mass at JMJ PRC in Orlando 8/23/19.

Evening prayer vigil Lucerne abortuary in Orlando 8/23/19.

Mass at OLG Chapel at Miracle House PRC, Palm Beach, FL.
ON THE ROAD FOR LIFE patronesses, Our Lady of Guadalupe and St Mother Teresa of Calcutta.

Mass at the American Holocaust Memorial.
After Mass at the Delta Abortuary. After a weekend of exorcisms, prayer vigils, and a Mass on site (in the camper chapel), the main abortionist quit.

Mass before day of prayer vigils and talks in West Palm Beach, FL

Red Rose Rescue Retreat in Baton Rouge, LA
8/28/19 – 9/5/19 .
Donate to On The Road For Life
Invite Fr Stephen
US Priest Performs Exorcism Outside Irish Abortion Clinic – read the Church Militant article.