Welcome to the ProtestChildKilling Website. ProtestChildKilling is not a pro-life organization; it is a pro-life movement. Fr Stephen Imbarrato, a Priest Associate on the Pastoral Staff of Priests for Life, believes that we can end pre-born childkilling in our country in 5 years or less through a sustained peaceful and prayerful national pro-life protest movement. Please read the Protest Manifesto below and watch the videos.
---

Please join our peaceful and prayerful protest movement to end preborn childkilling by the end of the next President's 1st term.
---
ProtestChildKilling!

I was taught by CBR starting with GAP! I am calling for sustained national protests showing abortion until we can achieve a national strike to end abortion. We need to show the truth about preborn childkilling on every college campus. Those against showing the truth about baby killing don't get it…that our babies are being slaughtered! Let's show America that we protest preborn child killing and we are adamant about end the slaughter of our unborn brothers and sisters.
Join the movement! ProtestChildKilling.com
Text PROTEST to 22828
---
What is ProtestChildKilling?
---
The Protest Priest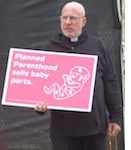 Fr. Stephen is commonly known as the "Protest Priest." He is calling for sustained national protests against pre-born childkilling. Father is on the pastoral staff of Priests for Life and travels around the country protesting and speaking to pro-lifers about how he believes we can end childkilling in 5 years or less.
Feel free to email Father frstephen@priestsforlife.org. Fr. Stephen Imbarrato's biography including his Travel and Speaking Schedule.
---
Protest ABQ Joins National Protests of Bank of America

Protest ABQ is joining Pro-Life Waco (TX) in Protesting Bank of America's financial support of Planned Parenthood. On November 10 Protest ABQ held their first Bank of America protest rally at the BOA at 6605 Uptown Blvd. Other national efforts to protest BOA include Dallas (TX), Austin (TX) and Charlotte, North Carolina where Bank of America's national headquarters is located.
John Pisciotta, Director of Pro-Life Waco issued the following statement, "Pro-Life Waco is leading a campaign to convince national management of Bank of America to completely terminate its financial support for Planned Parenthood. Bank of America supports Planned Parenthood through a 100% match for all employees donations to the now-disgraced Planned Parenthood." Pro-Life Waco is waging a national campaign, #ProtestBOA, to expose Bank of America's misplaced "philanthropy" and to get BOA to stop.
Responses from other businesses about their Planned Parenthood donations.