Fr. Stephen, of Priests for Life and a member of the EWTN family, believes we can end preborn childkilling peacefully, yet decisively. See some of these decisive strategies below. Read Father's Pro-life Manifesto, watch the videos, and check out the links on this page! Feel free to contact Father at frstephen@defendinglife.org and please sign up to join the movement.
---
DECISIVE STRATEGIES to End Preborn Childkilling
---
Personhood Proclamation Campaign
(encouraging President to sign an Executive Order)
Join the Personhood Alliance / CitizenGO effort to contact President Trump
Citizengo.org/en/signit/140821/view
On January 14th 1988, President Ronald Reagan issued the Personhood Proclamation (linked and quoted below). We can all imagine what would happen if President Trump, on the 30th Anniversary of the Reagan Proclamation, signed such as a Presidential Executive Order. What a great gift an announcement would be on January 14th, 2018, a mere 5 days before the March for Life in DC on January 19th, 2018. On the practical side, the entire national debate on abortion in every sector of the government and country would dramatically turn to the focus it needs to have…Personhood From Fertilization. It could conceivably end abortion with 1-2 years by forcing the SCOTUS to rule on personhood which we all know they have dodged for 4 plus decades.
President Trump's Personhood Proclamation Campaign
(Draf

t) I, President Donald Trump, by this Presidential Executive Order, based on indisputable science and abundant case law, grant Constitutional Personhood from the moment of conception (fertilization) and I direct all federal agencies and departments to act accordingly.
……………………………………………………………..
President Ronald Reagan's Personhood Proclamation January 14th, 1988
(actual excerpt)…I, Ronald Reagan, President of the United States of America, by virtue of the authority vested in me by the Constitution and the laws of the United States, do hereby proclaim and declare the unalienable personhood of every American, from the moment of conception until natural death, and I do proclaim, ordain, and declare that I will take care that the Constitution and laws of the United States are faithfully executed for the protection of America's unborn children.  Upon this act, sincerely believed to be an act of justice, warranted by the Constitution, I invoke the considerate judgment of mankind and the gracious favor of Almighty God.
Read the entire Regan proclamation.
Contacting the President / White House
Phone Calls:
To connect with White House offices answered by Staff Members 202-456-1414. Leave messages for President Donald Trump, VP Mike Pence, General Counsel KellyAnne Conway
To leave comments with White House Volunteers: 202-456-1111
Emails: whitehouse.gov/contact Fill in all requested information.
In your own words encourage President Trump to sign Presidential Executive Order. Message can be up to 2500 characters.
Social Media:
Facebook: www.facebook.com/donaldtrump
Instagram: www.instagram.com/realdonaldtrump
Youtube: www.youtube.com/user/whitehouse or www.youtube.com/user/trump
Twitter: @realdonaldtrump @whitehouse @POTUS
Twitter Campaign
Sample hashtags #freetheunborn #endslaveryinthewomb #trumplegacy #newlincoln #personhoodproclamation
#newemancipationproclamation
#presidentialexecutiveorder
(Draft or sample tweet) I, President Donald Trump, by this Presidential Executive Order, based on indisputable science and abundant case law, grant Constitutional Personhood from the moment of conception (fertilization) and I direct all federal agencies and departments to act accordingly.
(Sample tweet) Encourage @realdonaldtrump to issue #personhoodproclamation #endslaveryinthewomb #trumplegacy
#freetheunborn
Send your own tweets to @realdonaldtrump with your own hashtags or use ours and please share across social media!
Video below is Fr. Stephen explaining the origin of the Personhood Proclamation Presidential Executive Order at the Survivor Camp July 2017.
(After starting the video you will need to turn audio on by clicking on the speaker icon at bottom of the video.)
The Case for Personhood at Conception
Brief Thoughts on the Personhood Proclamation (Attorney Angelo J. Artuso's Personhood legal synopsis)
Protecting Prenatal Persons: Does the Fourteenth Amendment Prohibit Abortion? (Joshua Craddock's thesis)
Dr. M.L. Condic's Support for the Origin of Human Life at Fertilization (Assoc. Professor of Neurobiology and Anatomy, University of Utah, School of Medicine).
Bioethics White Papers – When Does Human Life Begin?
---

During the 2017 nationwide protest of Planned Parenthood, about 125 DC area anti-abortion advocates stated a march from the US Supreme Court to the new DC Planned Parenthood mega-facility. A similar number of pro-abortion counter-protesters showed up to harass the marchers and, if possible, prevent the protest from taking place.
---

Please join our peaceful and prayerful protest movement to end preborn childkilling by the end of the President Trump's 1st term.
---
What is ProtestChildKilling?
---
The Protest Priest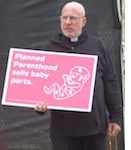 Fr. Stephen is commonly known as the "Protest Priest." He is calling for sustained national protests against pre-born childkilling. Father is on the pastoral staff of Priests for Life and travels around the country protesting and speaking to pro-lifers about how he believes we can end childkilling in 5 years or less.
Feel free to email Father frstephen@priestsforlife.org. Fr. Stephen Imbarrato's biography including his Travel and Speaking Schedule.
---