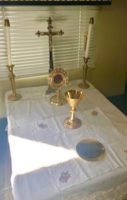 Prayer Vigil Miami Florida 8/19/19.

Miraculous rock with unborn baby naturally formed into the face…Rachel Vineyard Retreat Miami August 18th, 2019.
Miami Florida 8/19/19 with Fr Marshall SJ.

Abortion vigil with exorcism prayers; Hollywood Florida 8/20/19.
Planned Parenthood Pembroke Pines 8/20/19.

Hollywood Florida talk. See video on homepage.
Minor Exorcism at Hollywood, Florida abortion mill. 8/20/19.

American Holocaust Memorial in Baton Rouge, La! Blood stained counter and actual abortion tools of death.
Where to Protest
All protests should be peaceful and prayerful. Let your signs and images tell the story. Interact only if you can have a rational conversation with the person. Ignore emotional people and avoid emotional discussions. For all neighborhood protests, check local ordinances. Always try and build a positive relationship with local law enforcement. Let us know if you have other suggestions and we will post them!
Highway overpasses.

City and state officials where applicable.
Investigative Videos