Click here to donate to the ProtestChildKilling movement.
To send a check:
LifeMinistriesUS
Post Office Box 6533
Albuquerque, NM 87197-6533
ProtestChildKilling is a 501(c)(3) under LifeMinistriesUS. All donations are tax deductible.
---
To donate personally to Father…
Fr. Stephen Imbarrato
159 14th St
Holly Hill, Florida
32117
frstephen@defendinglife.org
If you have a question or comment about the ProtestChildKilling movement or articles in our eblasts send it to us.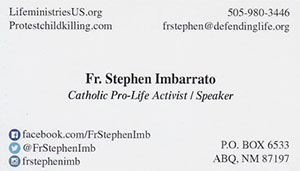 Social Media
Like Fr. Imbarrato's Facebook Pages, Twitter, and Instagram:
facebook.com/ProtestChildKilling
facebook.com/Fr. Stephen
twitter.com
instagram.com
youtube.com