Talking Points when calling or emailing Governor Desantis
(Please consider calling him or emailing ONCE PER DAY)
Use your own words and/or any of these points (or other points of your choice)…

1. (Florida is not pro-life) Point out that almost 60 abortion mills, 80,000 total yearly abortions (over 200,000 since he has been governor); over 40,000 of them annually chemical abortions (over 100,000 chemical abortions) since he has been governor) is not acceptable in any state never mind a state that has a Republican governor, a 63% Republican majority in the House, a 66% Republican majority in the Senate, and a conservative majority on the State Supreme Court.

1A. (Florida is not pro-life) Florida truly is the red state abortion capital of America. It is the worst red state in the country re: abortion and the 3rd worst state re: abortion behind NY and CA. This is unacceptable. The Governor needs to publicly recognize the problem in order to properly address the problem.

2. (Florida needs effective legislation) The 15 week ban is not acceptable and does not affect (close) any abortion facilities nor does it stop even one of the tens of thousands of chemical abortions in our state. The Texas style Heartbeat Bill (6-8 week ban) would have been much more preferred in light of the SCOTUS overturning Roe vs Wade. However, now thar Roe vs Wade has been overturned, there is no reason not to abolish abortion in Fla by recognizing personhood at conception.

3. (Florida needs a Special session) The Governor, considering the significant Republican majorities and conservative court, needs to vocally support and pass a "personhood from conception act" in a special session.

4. (Effective leadership and legislation) At minimum, the Governor should follow the lead of Governor Kristi Noem of South Dakota who challenged her legislature saying she wants to sign a Texas style Heartbeat Bill and also a ban on all Telemedicine mail order chemical abortions in her state.

IMPORTANT 5. (Chemical abortions and our water supply) With over 40,000 abortion mill originated chemical abortions, and an unknown, but most likely an unimaginable number of telemedicine mail order chemical abortions (there are 630,000 female university students in Florida), the Governor needs to consider the effect of tens of thousands of chemically aborted babies flushed down Florida toilets on Florida's water supply and his toilet to tap initiative.

6. (We Need strong anti-abortion leadership) The Governor needs to be as bold and outspoken a leader on the mass murder of Florida babies as he has been and is on other important issues facing Florida. He needs to "talk the talk" then "walk the walk."

7. (Florida needs a special session focused on ending abortion) The Governor needs to call a special session focused solely on how to end pre-born child killing in Florida. Three bills should be considered: (A) A total ban on abortion by recognizing personhood at fertilization. (B) A total ban on telemedicine mail order chemical abortions (C) Failing a total abortion ban, a Texas style Heartbeat Bill.

Please consider calling or emailing the Governor daily about any or all of these talking points. Supplemental information is in the website below.
This is the goal…
In the comong months, it is imperative that Florida recognize personhood from the moment of fertilization. 15 week bans and Heartbeat Bills effectively reduce abortion facilities and abortions, but now that the Supreme Court of the US has overturned Roe vs Wade, Florida must have a full abortion ban in place (similar to Texas and more than 1/2 dozen other red states) in order to insure all abortions are abolished and all preborn children are protected. We want abortion in Florida abolished through personhood from fertilization. Abortion is murder. It must end in Florida.
CHEMICAL ABORTIONS
MAIL ORDER CHEMICAL ABORTIONS ARE REAL! HOW MANY IN FLORIDA? THOUSANDS?
IS ANYONE TRACKING THEM?
FDA Approved Mail-Order Abortions
How to Get the Abortion Pill By Mail

Please call Gov DeSantis and inform him about chemical abortions in Florida (see Contact Information above in the right column or in the Brochure).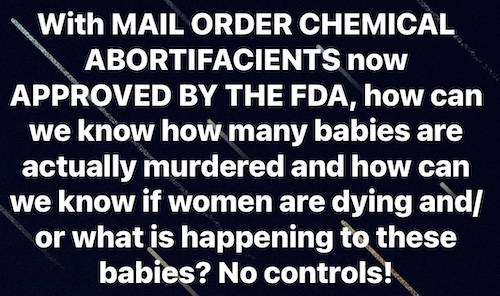 ---
FLORIDA GOVERNOR RON DESANTIS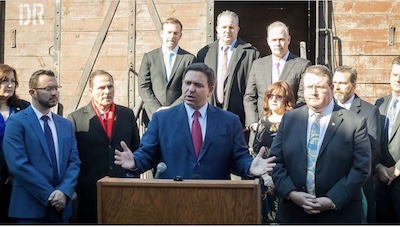 LAWMAKER FILES 'FLORIDA HEARTBEAT ACT.'
This article is very revealing about mindsets and perception. Governor DeSantis has expressed some concerns about a Texas type Heartbeat Bill. Speaker Sprowls is a politician who sounds like a politician instead of someone who understands that abortion is murder. Thank you Webster Barnaby. Heartbeat Bills and 15 week bans may be temporarily adequate since Roe vs Wade was overturned, but a TOTAL ABORTION BAN NEEDS TO BE PASSED NOW. Everyone needs to believe in this truth. Abortion is murder.
---
FLORIDA CAMPAIGN TO END CHILDKILLING NEWS
"I think some sort of abortion restriction will be a priority this year. I think that's the most likely thing you'll see, is a 15-week ban," said Michael Sheedy, executive director of the Florida Catholic Conference.

Fr Stephen's response: "The era of incrementalism is over. Every child is a unique, precious, and unrepeatable person, made in the image and likeness of God, from the moment of fertilization and must be protected. Abortion in Florida must be abolished through personhood."
FLORIDA AGENCY FOR HEALTH CARE ADMINISTRATION HOMEPAGE WHICH OVERSEES THE ABORTION INDUSTRY
– Organizational Chart with Contact information: PHONE NUMBERS TO CALL ABOUT YOUR CONCERNS ABOUT ABORTION IN FLORIDA.
– How to file any complaint against an abortion facility in Florida. (injuries, licensing, medicaid fraud, medical waste issues)
– Florida Agency for Health Care Administration 2020 Report on Abortion Industry
FLORIDA CATHOLIC CHURCH CHIEF POLICY LAWYER MADE CONTRIBUTIONS TO PRO-ABORTION CANDIDATE
If we are going to help Governor DeSantis end childkilling in Florida, all the Florida bishops have to stop playing politics and demand the end to the mass murder of our preborn children.